OCTA ANNOUNCES NEW WORKS PLAYWRIGHT COMPETITION FINALISTS

17 FEB

 OCTA ANNOUNCES NEW WORKS PLAYWRIGHT COMPETITION FINALISTS

Olathe, KS (February 16, 2018) – The time has come for Olathe Civic Theatre Association to prepare for its second New Works Playwright Competition Finals! After receiving nearly double the number of entries from last year, the members of the NWPC committee have narrowed the pool to five finalists. Applicants submitted a ten-page teaser vetted by the committee and then ten semi-finalists were asked to send in full scripts. Now, OCTA will present the five teasers, from four original plays and one original musical, at this year's New Works Playwright Competition Finals in early March.

The 2018 New Works Playwright Competition Finalists are: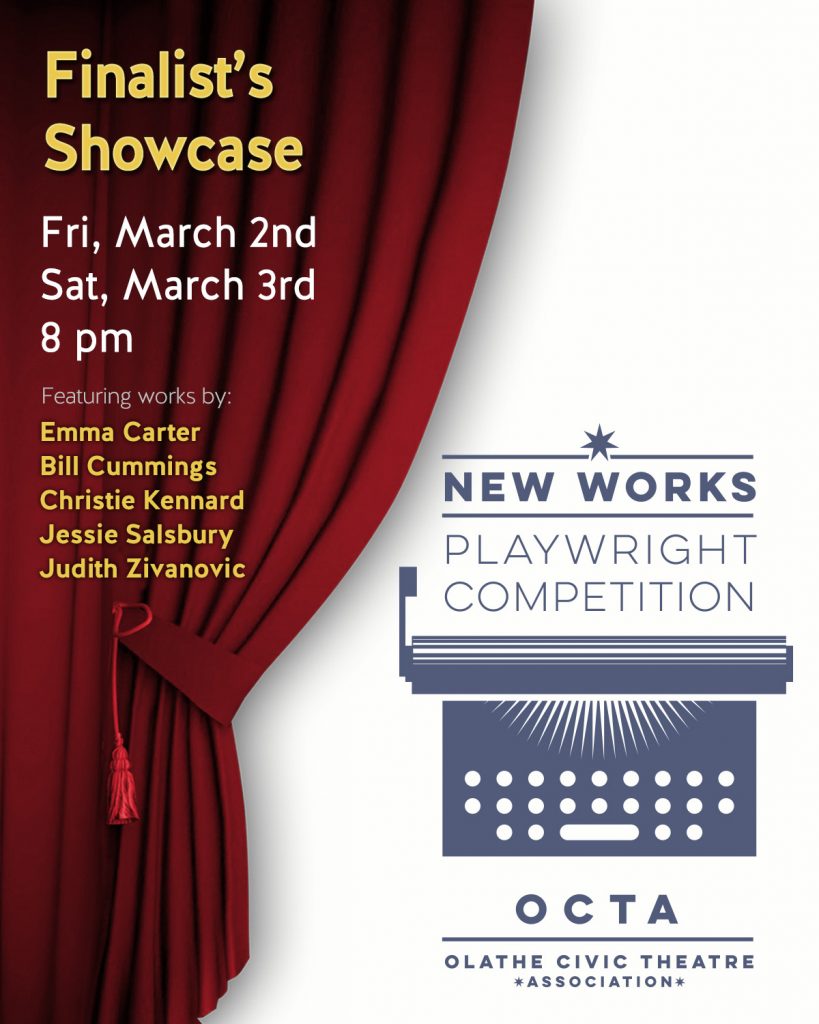 Spellbound by Emma Carter
Gospel Hour by Bill Cummings
The Summer House by Christie Kennard
Adoption of Grief by Jessie Salsbury
Promises to Keep by Judith Zivanovic
Each playwright will work with a director and cast to bring their 10-15 minute teasers to OCTA's stage March 2 and 3. Audiences have two chances to see and VOTE for their favorite script. The winner will be announced after votes are tallied Saturday evening, the second night of competition. The winner receives a full-length workshop of their script at OCTA during the Winner Workshop Weekend July 13 and 14, 2018.
Andrew Joseph Brown, a local playwright and an OCTA board member who champions the competition, couldn't be more pleased with the outcome. "We had so many entries this year from Kansas and the Kansas City area, many new to the competition. We opened it up to musical submissions and I can't wait to hear what that finalist will bring to the table with the four plays."
The community can follow the event on Facebook at "2018 New Works Playwright Competition at OCTA" or check OCTA's website for updates. Additionally, OCTA's Youtube channel features the NWPC video series "A Sit Down with Andy Brown" – those interested can get caught up on last year's fun before the 2018 finals!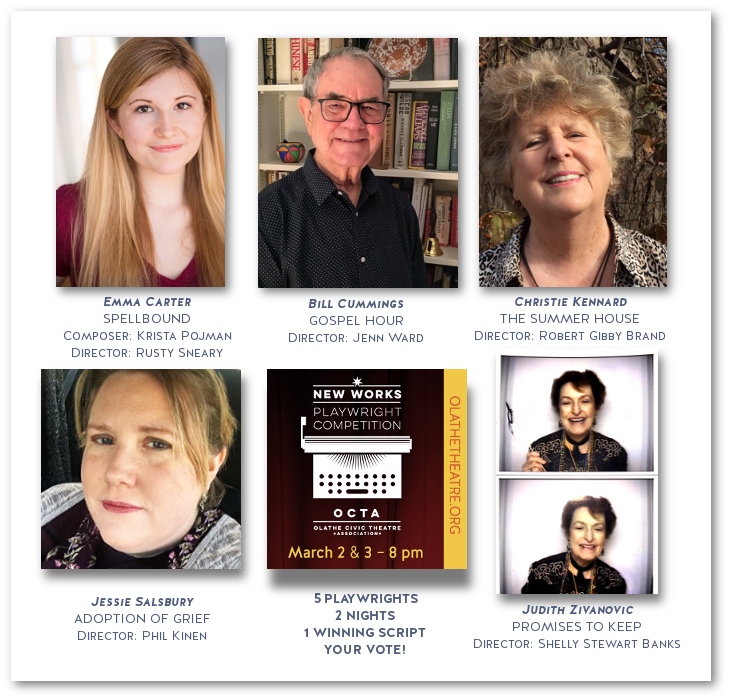 The competition is Friday March 2 and Saturday March 3 and begins at 8:00 pm each night. Regular tickets are $10 and can be purchased online in advance at http://olathetheatre.org or at the door. (OCTA season ticket holders receive the discounted price of $5 at the door only, but can reserve a seat in advance by calling 913-782-2990 or writing tickets@olathetheatre.org.) Tickets may be purchased with credit card, check, or cash. Free parking is available in the OCTA lot and on the street. Concessions are available for cash or credit donation and may be taken into the newly renovated theater.
See headshots and bios of the 20+ playwrights/directors/composer/actors/readers here! 
Watch a video featuring competition creator Andrew Joseph Brown and 2017 winner Michelle Tyrene Johnson here.
A Special THANK YOU | Building Update: We're Over Halfway There!
As part of OCTA's $130,000 fundraising campaign to make critical repairs and updates to the organization's nearly 150-year-old building the board is thrilled to announce that, with the help of patrons, the theatre met a $10,000 calendar year end match offered by an anonymous donor. Combined with a generous grant from The Sunderland Foundation and efforts from board and volunteers, this has allowed OCTA to complete phase one of the work to the interior of the building, most of which can be seen during the run of Violet. Fundraising for phase two, which consists of primarily outdoor projects such as painting/siding, replacement of the parking lot, two new HVAC units, and more, continues, with the goal to complete the work this summer. To read more, visit http://olathetheatre.org/donate.
About Olathe Civic Theatre Association
Olathe Civic Theatre Association is a 501c3 organization producing theatre in Olathe since 1974. Performing in the Buddy Rogers Family Playhouse, OCTA produces five high-quality, engaging, and thought-provoking theatre productions a year. Through the generosity of volunteers, season ticket holders, donors, and the City of Olathe, OCTA has grown into one of the most progressive community theaters in the Kansas City metropolitan area.
Social and Digital Media
Receive updates by 'liking' OCTA's Facebook page at www.facebook.com/olathecivictheatre or by following Instagram and Twitter at @OCTATheatre
OCTA'S Remaining 2017-2018 Season Productions and Special Events
SPECIAL EVENT – New Works Playwright Competition – March 2 & 3, 2018
Five finalists present 10-minute teasers of their scripts – audiences vote for the winner who will then receive a full-length workshop reading in July!
Superior Donuts – April 6-22, 2018
By Tracy Letts | Directed by Diane Bulan
From the Pulitzer Prize-winning author of August: Osage County comes this moving comedy-drama set in an Uptown Chicago donut shop. Facing age 60 and all alone, proprietor Arthur has his dreary world turned upside down by the arrival of Franco, an ambitious employee in his early 20s.
SPECIAL EVENT – Roundabout! (or the Completely Contrived Chronicle of Lucy Mahaffie and Endless Right Turn) – April 28-29
In celebration of the 200th Anniversary of the birth of James Beatty Mahaffie, Mahaffie Stagecoach Stop & Farm Historic Site and Olathe Civic Theatre Assocation are cooking up some fun for the whole family with an old-fashioned melodrama packed with more fiction than fact, but a whole lot of fun that gives Olathe's history with the 'roundabout'! The melodrama takes place on the grounds of the historic Mahaffie Farm and is one hour. Choose between two performance time—5 p.m. or 7:30 p.m. on Saturday (food served between performances on Saturday), or Sunday at 2 pm.
Unnecessary Farce – June 1-17, 2018
By Paul Slade Smith | Directed by Bill Pelletier
Two cops, three crooks, eight doors…go! In a cheap motel room, an embezzling mayor is supposed to meet with his female accountant, while in the room next door, two undercover cops wait to catch the meeting on videotape. But there's some confusion as to who's in which room, who's watching the video, who's taken the money, and who's hired a hit man. This fast-paced physical comedy is a comic gem!
SPECIAL EVENT – New Works Playwright Competition Winner Workshop – July 13 & 14, 2018
The full-length workshop reading featuring the winning play from the March finals!